When would you like to visit the Rocky Mountains? Perhaps a Christmas ski trip to Breckenridge. Or maybe Jackson Hole over spring break. Of course, the summer months are fantastic too! What could be better than hiking through wildflower-filled meadows or camping next to a stream in a national forest like in the images below?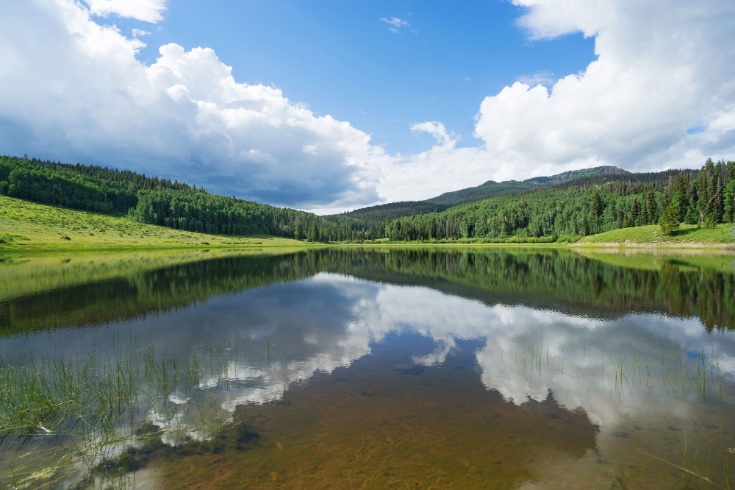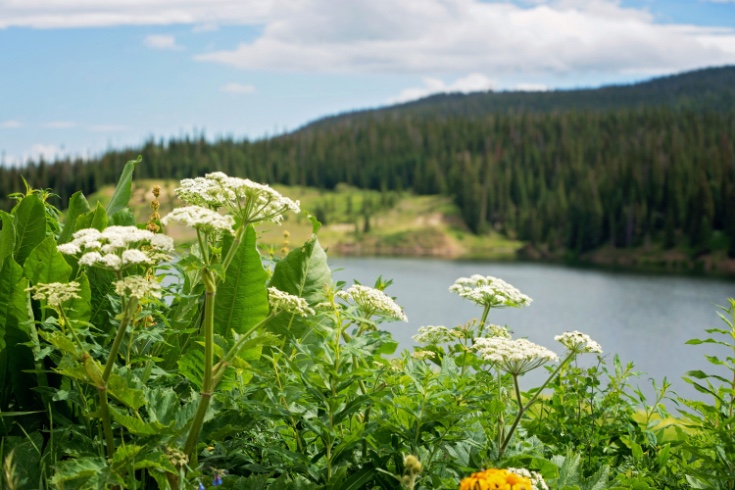 Photos from my visit to CO in July 2016
Taken in the Medicine Bow-Routt National Forests
So why would I want to visit in April, the "mud" season? Isn't it too late for snow fun and too early for summer fun? Honestly, I don't think there is ANY bad month in the Rocky Mountain states of Colorado or Wyoming.  But April is an amazing time of the year! The wildlife is just waking up and the Rocky Mountains are coming alive! The winter weather has calmed down but the landscape is still capped with snow. (In some places LOTS of snow!) 
The best part is, off-season rates are low because it's just you and the locals.  I travel to get close to nature and find inspiration from adventure, discovery and, if I'm lucky, serenity. That's why this was such a perfect trip, all of the beauty but none of the crowds!  
The plan was to spend most of the trip exploring Wyoming. But first, we would fly into Denver, rent a car and spend the day in Rocky Mountain National Park. From there we would continue on to Wyoming.
TRAVEL TIPS:
Southwest Airlines has great non-stop airfare between Dallas and Denver. I usually use the flexible calendar to find the best prices and plan my trip around that. If you are limited to specific days, it will be more difficult to find a good fare. Flying out on a Tuesday and returning on a Saturday and the first and last flights of the day are usually the cheapest (I love getting off to an early start!) 
Once, I flew to Denver for $35 each way. I had enough points to pay for one way, so the RT flight cost $35.
While April is typically a milder month, especially at lower elevations, you can't rule out a possible snow storm. We knew this and packed accordingly. (This is the other benefit to flying SWA.  You are going to need those 2 free checked bags to fit your bulky winter apparel!)
Avoiding interstates is my preferred road trip policy. Rural highways usually offer much more in the way of interesting scenery and roadside excursions. So once we were out of the Denver area we took the Peak to Peak Scenic Byway to Estes Park. The curvy roads are fun and the mountain views are jaw dropping. There is no shortage of lakes and trails to explore just a few minutes off the highway. Every turn seems to provide another photo opportunity.
TRAVEL TIP:  It's a very good idea to have bear spray when spending time in the mountains.  Because it is flammable you can't fly with it so you will need to buy it once you are there.  The first thing we did once we got our rental car was drive to a Dick's Sporting Goods to purchase a can for each of us. This is a good time to stock up on water and food at the closest grocery store.  Don't find yourself in an unpopulated area without essentials.    
The closer we got to Estes Park the more wintry the weather became. The temperature dropped and the wind howled. We were excited to see what the mountains had in store for us!
The first ten seconds we were in Estes Park, we were not disappointed! Elk! They were everywhere! They were grazing on lawns in urban neighborhoods. They were trotting down busy streets. I think they were even posing for our pictures.
 
The entrance to Rocky Mountain National Park is just west of town. Except for the summer months, most of the higher elevation roads are closed to vehicles. And that's OK! This is not the time of year to be driving at 12,000ft.  Almost all the roads and trails are open for hikers and bikers. 
We drove the loop between the entrances of Beaver Meadows and Fall River and further down at Bear Lake Road. The temperature dropped to 18 degrees and the snow and wind picked up. But we didn't care because we were in the middle of an elk and mule deer convention.  Our eyes got wide as we stared at herds of wildlife everywhere we looked.  We were laughing out loud as we tried to scramble out of the car to take photos.  The wind was blowing so hard we almost couldn't open our doors.  We took photos and video and with the exception of a few of the animals, they paid no attention to us.  It was a wonderful sight and we had only been in the park 5 minutes. 
Rocky Mountain National Park in April
We spent most of our time in the park looking for wildlife and jumping in and out of the warm car to take photographs. Sometimes we would just sit and marvel at the landscape in front of us. The brief but very profound connection with nature is what makes these trips so rewarding. 
When it was time to leave, we drove back towards Estes Park.  We were barely a mile out of the park when my eagle-eyed friend spots two huge elk bucks in a parking lot of a roadside inn.  We made what was probably not the safest of u-turns on the narrow two-lane road so we could take a closer look.  
We sat in our car with the windows rolled down observing these two beautiful creatures from the parking lot.  Suddenly, one of them walks up to the car, puts his nose up in the air and sniffs at us. He continued to do this for some time. He seemed to be very curious about us and we him. He let me photograph him (with the car between us for safety.) Eventually, the other buck came to get him and they trotted off together into the forest.
A little further down the road, and still giddy from the previous experience, we hit the proverbial jackpot. Just off the road, I spied a bald eagle on the ground. What luck! We whipped off the road, parked the car and tip-toed as close as we could to him.  We were surprised how long he sat there.  Resting perhaps? Finally, he spread his enormous and powerful wings and climbed high into the sky. 
Our animal encounters had thrown us off schedule a bit and we were concerned we might not make it to Rawlins, Wyoming before dark. We decided to play it safe and take the interstate instead of US HWY 287. We wouldn't find out until the next morning but that decision probably saved us from serious danger.  
When we got to I-25 and headed north, we were shocked to see semi-trucks flipped on to their side.  We counted about six before we saw the Department of Transportation warning signs that said "Wind Restriction". Wind blew over those huge trucks?  So, while we were in the mountains, eastern Colorado was getting hammered with wind.  Wide spread gusts from 60-80 mph, called Bora winds, pushed through the area bringing thick dust with it.  The airport closed down, trucks flipped on their side, and roof tops blew off.  Had we stuck to our original time schedule, that could have been us driving in the image below.
We reached the Wyoming border by sunset with another two and half hours to go to Rawlins. The Cowboy State would prove to have some nail biting driving moments of its own.  
Next time...Wyoming!