Lipik is a small, sleepy town in the Slavonian region of Croatia. My friend, Sanja, invited me to spend the Easter weekend at her family home there. The town is well known for its hot spring water, its Lipizzaner horses and more recently for damage it sustained in the Croatian War of Independence.
The drive to Lipik is a familiar one. Not because I have been there before but because of the gorgeous rolling hillsides I have come to know and love. I could just stare out the car window forever at the landscape that is so green it practically vibrates. I have to bite my tongue to keep from constantly asking to pullover so I can take photos.
We arrive Saturday afternoon to Sanja's childhood home. Her father lives there alone but his son and family live in the adjacent house next door. It is very common i
n Croatia for adult children to live with or next to their parents. All of Sanja's family welcomes me like part of the family and it reminds me of my big Italian family back home. (Just put some more pasta on the stove, everyone is welcome.)
The children come over to dye eggs in the traditional Croatian way. Eggs are tied up with cut pieces of panty hose and pressed with leaves and other items found in the yard. Then they are soaked with yellow onion shells in boiling water. When they are finished cooking they turn out a beautiful dark crimson color. Then the eggs are rubbed with lard to give it a nice sheen. It makes for great family fun and builds to the excitement of Easter.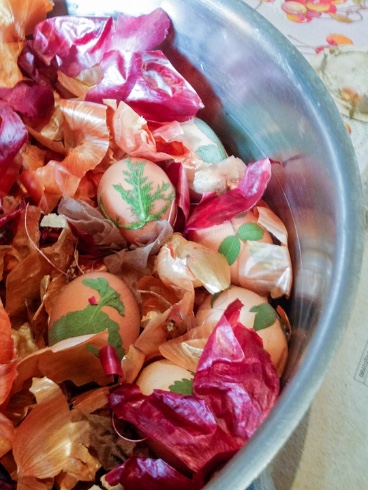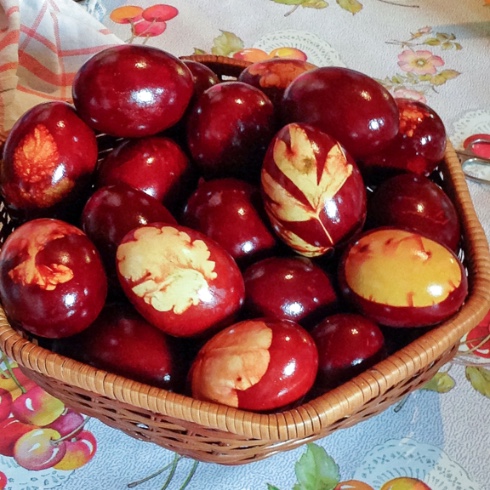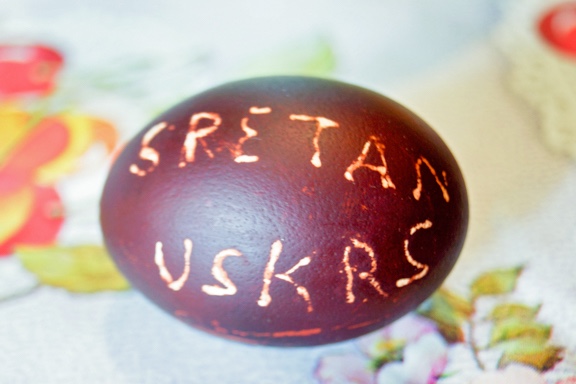 After the eggs are finished, we prepare for lunch. Sanja's father is cooking fish called šaran na rašljama, over an open flame outside. Sanja's sister-in-law, Manuela, lays out a fantastic spread. Plates of homemade sausage, the šaran fish, fresh cheese with cream, bread...and let's not forget the Rakija are served. Croatians drink their own version of schnapps called Rakija. But don't let that fool you. It's nothing like the sweet and mild liquor served in the U.S. The best way I can describe it is like pure grain alcohol with a fruit essence. It's definitely not for amateurs but it is surprisingly good. Hey, when in Rome...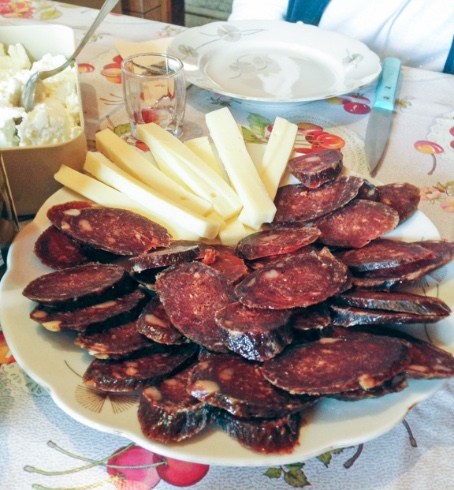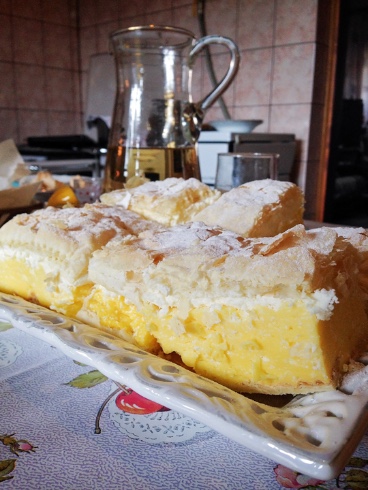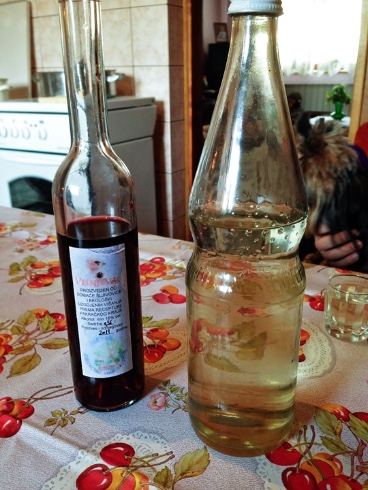 To walk off our lunch I get a private tour of the town. The population is small, only about 2,000 people. (and they all seem to know each other) The streets are lined with quaint homes in typical Croatian style. In the center of town is a beautiful park with a gazebo. Inside the gazebo are fountains where hot spring water flows. The water is used for medicinal purposes at the local hospital and spas and bottled at the Studenac bottling company.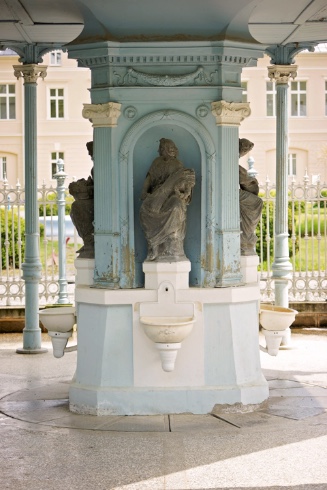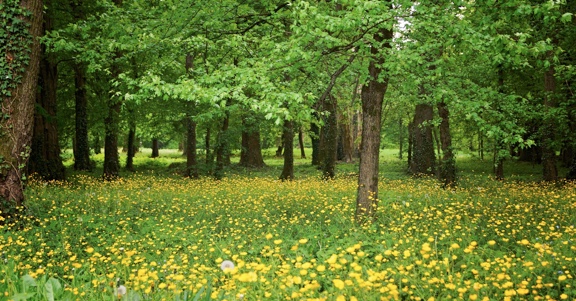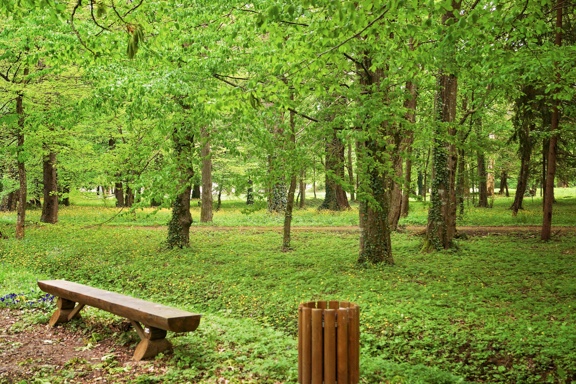 From just about anywhere in town the smokestack of the Lipik Glass factory can be seen. Unique minerals found in Lipik make it perfect for glass production. Owned by an Italian company, the glass is produced for Lamborghinis, Bentleys, Ferraris, Aston Martins and MacLarens. It's the main industry and major employer of the town. Sanja's brother, Igor, works there as well.
As we walk down the streets I get to see first hand the damage the town sustained during the war. Estates of Croatian wealthy are left abandoned and pock marked by bullets and grenades. It's a profound and somber experience for me. I am never sure what to say to those who lived it.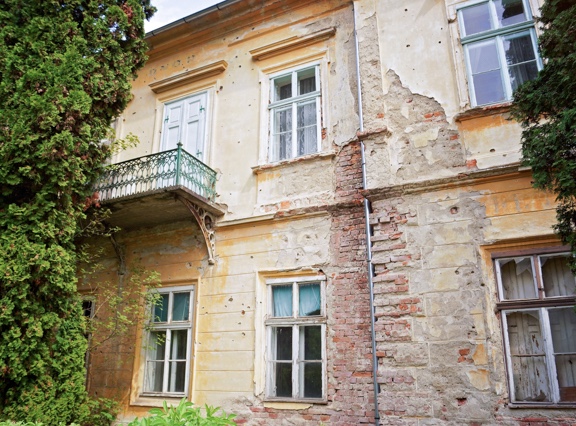 Later, Igor gives me a tour by car up into the green hills and I ask him if I could get out and take photos. He gives me a determined "no!" Within minutes I figure out why. Signs warning of land mines line the streets. Many homes that were destroyed in this area have been rebuilt. But their owners left during the war and never returned. These vacant homes stand as constant reminders of that turbulent time.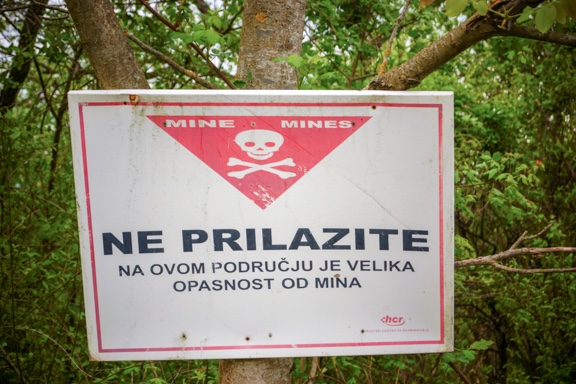 He then brings me to the famous Lipizzaner Horse Stables for another private tour. How lucky am I that Sanja's brother is on a first name basis with the stable keeper? Croatia has more than 200 years of experience breeding these high quality sport horses and has the largest population of Lipizzaner horses in the world. In 2007, Croatia had more than a thousand Lipizzaners, out of 6000-7000 in the world.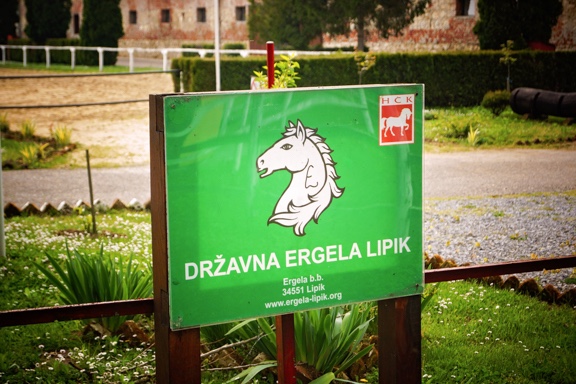 In 1991, during the War of Independence, 27 of the stallions were killed and 80 stolen by the Serbian Army. After years of negotiations, petitions that circulated worldwide, and international media coverage, 66 of these horses were returned to Lipik. Only 8 were originals, the rest were the children. The citizens of Lipik described it as the return of their soul.
Each stable I tour houses a different age group of the Lipizzaner. The foals are born black and as they age turn to grey and then to white. As I am standing there taking photos one of them comes behind me and nuzzles against my ear. Another sticks his nose in my camera trying to investigate it. It's hard not to fall in love with these beauties.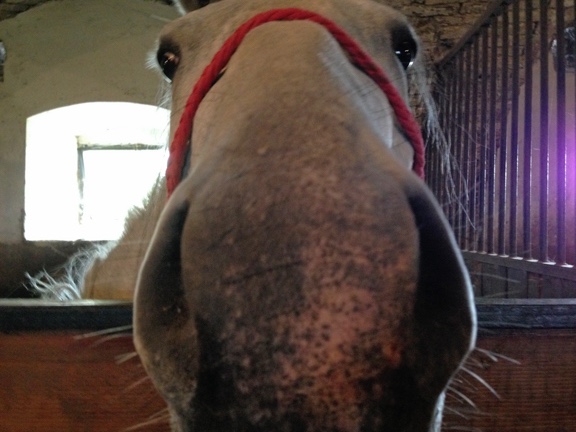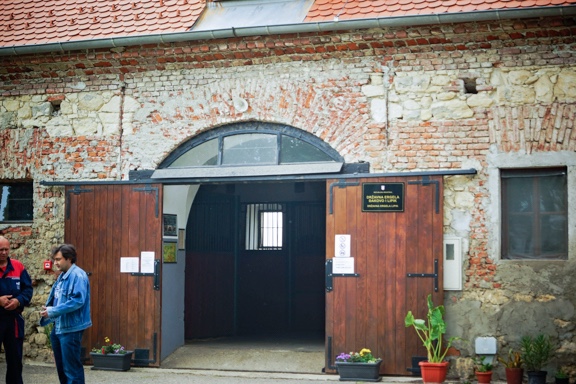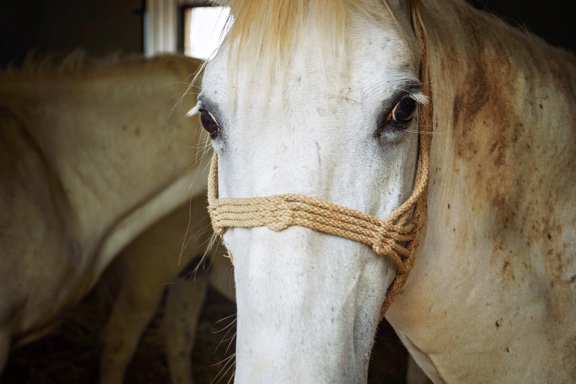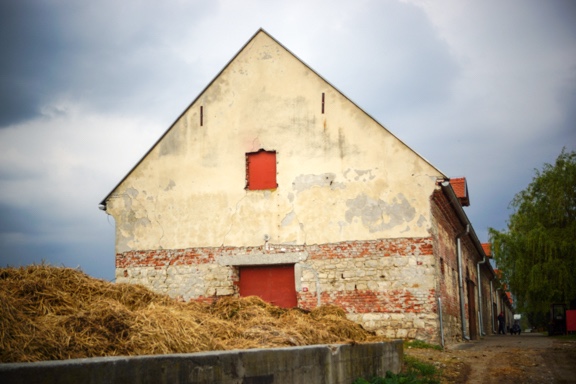 Finally it's time to leave to return home for dinner. I sit in the back seat of the car thinking how beautiful the property is. Right before we exit we pass a large building that has a huge starburst hole in the center, clearly the evidence of a grenade. My brain has a hard time reconciling the images.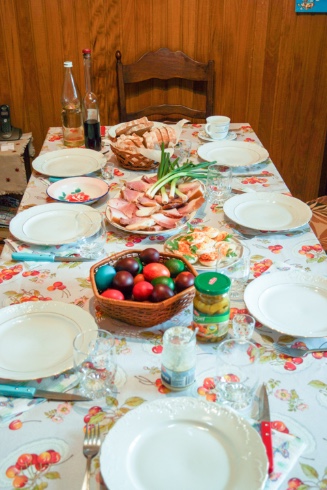 We return in time for dinner. Manuela has prepared another wonderful meal and, of course, more Rakija. When I finally retire to bed I am completely spent. Staring at the ceiling, listening to the sounds of silence outside I feel so relaxed. It is so incredibly peaceful here that I can practically feel my heart rate slow down. And it appears I am not the only one. Earlier, as we were driving through a neighborhood, 2 large dogs were sleeping in the middle of the street preventing us from passing. As we got closer they looked up at us, as if to say "What's the problem?"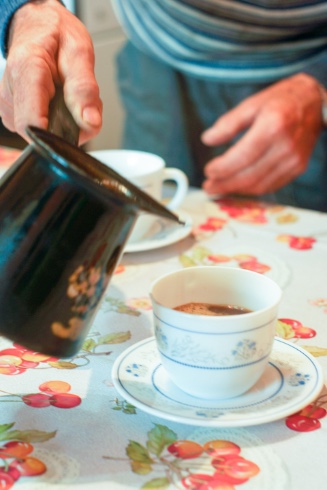 The next morning, Easter morning, I get ready before anyone else wakes. I'm sitting on the edge of the bed when I see Mr. Papić shuffle his feet to the bathroom. He stops when he sees me and slowly looks up. Then he gives me a beaming smile and throws up his hand in a wave and exclaims, "Dobro jutro!" (good morning!) It was really sweet and funny at the same time.
The tradition in Croatia on Easter morning is to greet people by shaking hands, kissing on both cheeks and saying Sretan Uskrs! (Happy Easter) It's great to see EVERYONE do it. I attend Mass with Igor, Manuela and the kids. It appears most of the town is there. The children's choir sit in the middle of the church led by a nun. This nun, who stood close to us, took her job very seriously. She would let each of us know if we were not singing loudly enough. But the hymns were all in Croatian. So every time the nun would look my way I would sing "watermelon, watermelon" so not to get in trouble.
After church, we have another fabulous meal. I'm not sure how Manuela found the time to cook so much great food. I'm positive I will be leaving Lipik 5 lbs. heavier, though.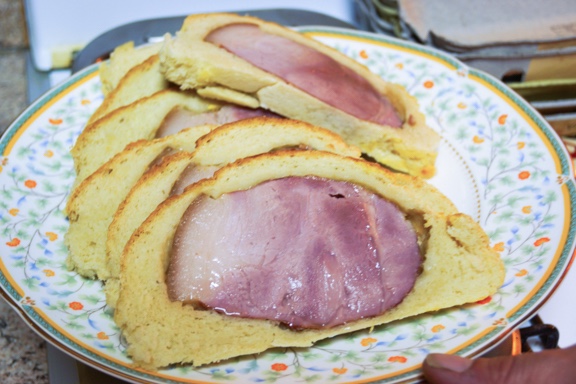 Sadly, it is time to leave. The whole family is there to give us a proper send off. Mr. Papić loads me up with homemade honey and Easter eggs. We hug, say our good byes and make promises for a return visit. When we drive off into the green countryside, it occurs to me that I will probably never be able to return to Lipik. Soon I will be leaving Croatia. But I will forever carry the memory of this lovely town and these lovely people in my heart.